Press

News, Interviews, Videos, Articles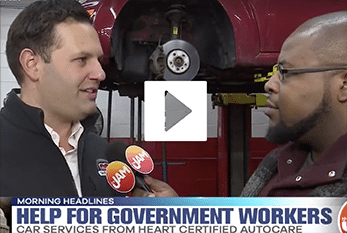 Help for Government Workers
WCIU, The Jam
HEART owner Brian Moak talks with WCIU's Brandon Pope about how HEART is easing the burden of the shutdown on federal employees with a free oil change, and a bridge payment program for repairs.
Chicagoland Auto Care Offers Free Oil Changes to Unpaid Federal Workers
WBBM
"We realized that people weren't being paid. We recognized that there was a problem." HEART owner Brian Moak says of HEART's offer to help unpaid federal workers.
Q&A: A Nationwide Expansion
Ratchet and Wrench
"A year ago, Brian Moak rebranded his family's business from Duxier Complete Auto Care to HEART Certified Auto Care, with a goal of promoting tolerance."
HEART Auto Care offers Free Oil Changes to Government Employees
Patch.com
"Heart Certified Auto Care, an auto repair shop with locations in Evanston, Wilmette, and Northbrook stepped up to aid local Chicago area workers affected by the weeks long partial government shutdown by offering free oil changes."
He wants to make auto repair an inclusive industry
Chicago Business
"The CEO of Heart Certified Auto Care on the North Shore sounds off about notions of masculinity, cars and accidents."
Brian Moak Brings HEART to Auto Care
Business Equality
"Lead from the heart is more than a motto for Brian Moak, owner of HEART Certified Auto Care, it is a part of the company mission. By allowing his heart and spirit of leadership to guide him, he is achieving his personal and professional goals– building a successful auto repair franchise."
Getting the Shop Ready for Winter
NOLN.net
"Before the first snowfall, we make sure the shop floors are clean and that we have a big bag of salt for the snow and ice we we're going to get." said Danny Rosenbloom, general manager of HEART Certified Auto Care in Chicago.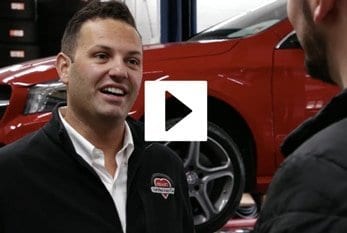 Coming Out: Shattering Stereotypes in Car Care
MSNBC's Your Business
"Who you are as a person has a lot to do with who you are as a leader. Brian Moak, the owner of HEART Certified Auto Care, runs his business based on the principles of authenticity, equality, and respect."
Proud to Be: Brian Moak, HEART Certified Auto Care
Tire Review
"If you think about franchising, what other opportunity can you grow and at the same time create massive opportunity for those involved,' says Moak. 'The idea of creating franchise owners that could join the mission, get involved, and could grow their own legacy became a very strong contender for the growth plan and ultimately, that was what we decided to go with."
HEART Certified Auto Care Offers Franchise Options
Ratchet+Wrench
"HEART Certified Auto Care, a shop that appeared in Ratchet+Wrench this month, has introduced a new approach to auto repairs called the Virtual Inspection Program. It's a system that provides photos of any areas in the automobile where repairs are recommended. Also included is a detailed inspection report and access to educational videos on auto repairs."
HEART Certified Auto Care Expands through Franchises
Franchising USA
"[HEART's] culture of caring about their customers and helping them with their automotive maintenance and repair needs is the foundation for growing the company across the U.S., as the number of franchise locations increases. Franchise owners have extensive support available from the HEART development team to grow their businesses. In addition to advanced training and management programs, franchisees receive marketing assistance, infrastructure guidance, and close support throughout the startup and launch phases."
HEART Certified Auto Care Expands through Franchises
Winnetka-Northfield Chamber of Commerce
"'The automotive repair industry is booming, with over $105 billion a year in revenue and consistent growth since 2015,' said Brian Moak, founder and owner of HEART Certified Auto Care. 'We are building off our established business model and changing how auto service is delivered. We've adopted what we believe are the best practices in our industry, and we're taking automobile service to the next level with our franchise owners.'"
Franchise Interviews Meets with Brian Moak of HEART Certified Auto Care
Blog Talk Radio
"With over 90 years of auto repair experience, HEART combines old fashioned service with expert mechanical repair to ensure that each and every customer has a premium level experience. Previously operating as Duxler Complete Auto Care since 1924, Brian Moak saw an opportunity to fill a growing gap in the car repair service industry. He decided to take his vision nationwide in 2017, launching the franchise of HEART Certified Auto Care.
How to Increase Profits
Ratchet+Wrench
"Brian Moak, owner of HEART Certified Auto Care, finds it interesting how, as a shop owner, you can get used to something—such as your shop's operations—especially when that 'something' is happening across all your locations. Moak's 'something' turned out to be major cash flow issues, but he quickly realized that his problem wasn't just money—it was lack of process. It wasn't until Moak took a general business seminar where he realized something was wrong, which lead him to fully evaluate the structure of his business."
How to Increase Profits
Ratchet+Wrench
"Brian Moak, owner of HEART Certified Auto Care, finds it interesting how, as a shop owner, you can get used to something—such as your shop's operations—especially when that 'something' is happening across all your locations. Moak's 'something' turned out to be major cash flow issues, but he quickly realized that his problem wasn't just money—it was lack of process. It wasn't until Moak took a general business seminar where he realized something was wrong, which lead him to fully evaluate the structure of his business."
Shout Out: Brian Moak, who has cars in his blood
Chicago Tribune
"Brian Moak is the owner of the newly re-branded HEART Certified Auto Care. Moak has lived in Lake Forest for about a year and is the father of a seven-year-old son. He started working for his own dad fifteen years ago in the auto repair business, eventually purchasing the company that today has three locations in Northbrook, Evanston and Wilmette."
New Franchise Puts the HEART in Auto Care
Franchising.com
"'Bringing your car in for a repair is often an unpleasant experience and the last thing we want is for a customer to feel vulnerable,' said Brian Moak, Founder & CEO of HEART Certified Auto Care Franchise Corporation. 'Our customers are our partners when it comes to how we take care of their cars. We are looking forward to replicating this model and building the HEART brand to create loyal customers across the entire Midwest.'"
CEO Brian Moak Talks Best Practices for Engaging Employees and Staying Authentic
BizCast
"Rebranding a company that has been operating under the same branding for nearly 100 years is never easy. Now imagine starting a franchise project with the same company. That is exactly what Brian Moak, CEO of HEART Certified Auto Care is doing. HEART Certified Auto Care is an auto repair business that believes in education and transparency and offers a wide range of vehicle services. What is Brian doing to ensure his company stays authentic throughout its growth process? Find out."
At the HEART of It: Helping Everyone Achieve Reliable Transportation
National Oil & Lube News
"'The whole premise I've envisioned is that we could create a company where employees own their jobs,' Moak said. 'Our business is built around a culture of positivity. Every single employee is focused on giving the customer the best possible experience."